'Small business for Dummies' by Eric Tyson and Jim Schell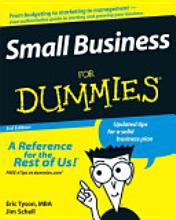 If you are thinking about starting up a business, you should read this book.  I have chosen this book to be in my personal library on this site because these guys have education, experience and most importantly, they start at the start.
In their usual 'Dummies; style, Tyson & Schell assume nothing.  They do not credit the reader with any significant prior knowledge and they do not assume that the reader knows any of the common opportunities and pitfalls.
This book is a great guide for any novice to business.  It provides an introductory treatment across a wide range of business subject matter and would make a great reference book for the office..  Experienced business operators would probably prefer something a little more in depth.
The only drawback for Australians is that this is an American publication.  Therefore U.S. tax laws and other legal framework do not apply in Australia.  It is not an in-depth treatment and I would advise everyone to seek advice from an accountant and lawyer before starting up a business.
However, that does not detract much at all from the book.  Business basics and business principles remain constant the world over.  And what makes this book a 'must have' in your personal library is the easy writing style and easy to understand concepts.
For the budding entrepreneur with a great idea and no knowledge in starting up a business, this is a book to buy as one of your start up guides.  Find it in my personal library on the right hand side panel of this page → →
Until next time!
Gary
Also read the free download Aikido Secrets to Calm Success at http://www.aikido-secrets–to-calm-success.com
https://garyweigh.com/wp-content/uploads/2017/12/GWeigh_2018-300x83.png
0
0
Gary Weigh
https://garyweigh.com/wp-content/uploads/2017/12/GWeigh_2018-300x83.png
Gary Weigh
2011-05-07 08:56:53
2020-01-21 17:58:16
Starting up a business – BOOK REVIEW