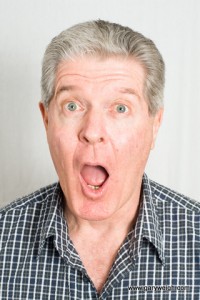 Retirement can be an emotional as well as a financial challenge.
This I know from personal experience.  Before I actually had to face retirement myself, I used to think of my retirement and other people's retirement in financial terms only.
That is, basically if I could guide them to accumulate enough money before retirement and / or generate a passive income during retirement, then all was sweet.
How wrong I was!
Whilst the financial side of retirement is still very important, I find there is a whole other emotional side to retirement that only hit me in the face once I was past the 'BIG 60'.
So a little bit of back-story!
As a financial adviser, I have enjoyed working from home for years.  I have a lovely office setup here at home and while my wife has gone to work four days a week I have enjoyed a decade of absolute peacefulness and bliss.   You couldn't prise me out of here back into a city office with a crow bar.
I am generally out and about Tuesdays to Thursdays having a glorious time meeting with new and existing customers, who are mostly around my age.   I am working but its work I love.  Many are now friends and it's always a chat over a cup of coffee, a bikkie or a few sandwiches.
Mondays and Fridays are generally the times when I am in my office all day doing follow-up paperwork and organising things for my clients.  I'm in my cave …. happy days!
A week ago, my wife began long service leave as a prelude to retirement.   My peace is shattered!  Now don't get me wrong, I think the world of her but things are changing.   She likes to be active around the house and in the garden.  So with the buzz of daily activity, my office isn't quite the sanctuary it used to be.
We are having the first of many pleasant discussions about how our retirement might go and, not surprisingly, we have different views of retirement.   Whilst I have no intention of ceasing the work I love until a health misfortune leaves me no choice, she has her sights set on travel.   So what to do?
After the first round of negotiations it seems that she will travel at every opportunity, either with me or with her girlfriends, and I will continue my passion for work and travel with her a whenever I can.
Welcome to my retirement!
Gary
https://garyweigh.com/wp-content/uploads/2014/10/stock-image-_lifestyle_old_couple_cuddle_trees1.jpg
320
365
Gary Weigh
https://garyweigh.com/wp-content/uploads/2017/12/GWeigh_2018-300x83.png
Gary Weigh
2014-10-14 02:39:13
2014-10-14 22:35:52
Facing Retirement