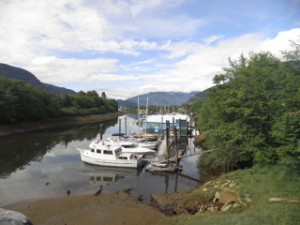 This is the story of Arthur, a Brisbane pharmacist.  After working as an employed pharmacist for a few years, he purchased his own suburban pharmacy.  The shop was located beside a doctor's surgery.  In fact, as part of an arrangement with the doctor, the previous owner had built a doorway directly from the doctor's waiting room into the pharmacy.  It was truly a captive audience!
All went well for a few months.  Arthur is a personable guy who made a real effort to connect with his customers.  He sought feedback from customers about what he should stock in the shop, other than prescription drugs.  He even greeted his customers by name after reading the name on the prescription – very clever!
A few weeks ago, tragedy struck, dealing Arthur a double blow.  Firstly, the doctor moved out from next door to a nearby regional shopping centre, to join a group of doctors who were locating next to a major pharmacy.
Shortly after, in January 2011, Arthur's shop was completely submerged in the recent Brisbane floods.
I will be amazed if Arthur's pharmacy business survives this blow.  That will be a real shame because my interest in this business has been as a customer who had always received excellent service.  This is one of many businesses I observe in my own neighborhood.
These are the kinds of events that are categorized as 'threats' when undertaking S.W.O.T. analysis (Strengths, Weaknesses, Opportunities, Threats).  Threats are not to be confused with 'weaknesses'.  Weaknesses usually relate to skills and knowledge that are missing.  Threats are events that can kill or cripple a business.  They can occur suddenly, and are usually caused by nature, government legislation or reliance on one source (in this case – income).
I am not being critical of Arthur over the flood issue.  After all, when the last major flood hit Brisbane, he wasn't even born.  Besides that, our governments had us believe that with new flood mitigation infrastructure, it would never happen again.
However, the previous arrangement between the doctor and the former pharmacy owner which was responsible for the majority of the pharmacy's business is something that should have sounded alarm bells.
This is where business owners can get blindsided.  The relatively few business starters who actually undertake planning before taking the plunge are usually too focused on the opportunity and the upside.  They tend to ignore downside risk on the basis that it may never happen, and it certainly won't happen to me.
For more business building tips Brisbane, visit my other blog at:
http://www.aikido-secrets-to-calm-success.com
Until next time!
Gary
https://garyweigh.com/wp-content/uploads/2017/12/GWeigh_2018-300x83.png
0
0
Gary Weigh
https://garyweigh.com/wp-content/uploads/2017/12/GWeigh_2018-300x83.png
Gary Weigh
2011-01-28 01:17:06
2020-01-21 16:33:29
Business building tips Brisbane – threats that can wipe out a business