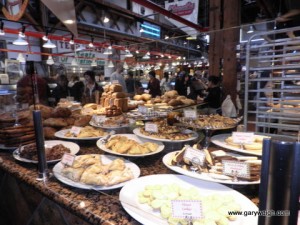 Make no mistake!  Business building in a cafe-takeaway shop is hard work.  I'm not knocking hard work but it is often a 6-7 days a week commitment with early morning preparation; which means that you can have little or no life outside the business.  If you are not used to it, tiredness can turn you into a zombie.
It is usually very competitive!  Competition generally comes from similar independent businesses, coffee shops, franchise chains and mobile vans (particularly in industrial areas).  Competition keeps margins generally low which requires high volume of customers.
Customer flow is not evenly distributed.  There are chaotic rush hours which impact on staffing and preparation.  You may only need a casual for 2 hours at lunchtime but awards can stipulate minimum periods that can be longer.
Like most food service businesses a cafe-takeaway is labour intensive.  It can be difficult to find and retain good staff, particularly casuals.  Food costs, portions & wastage must to be closely controlled.  It can be the devil's own job to train staff in correct portioning and minimal wastage.
It all gets worse when you are frantically busy.  It is extra frustrating when you run out of something and have to run to the nearest shop and pay retail price for it.
There are some heavy duty local authority food licensing conditions to meet, not the least of which is installing a grease trap.  Refrigeration, cooking and warming means some hefty power bills.
I am not meaning to be critical or pessimistic.  I'm just being realistic!  Know what you are getting into because I have seen passion for food repeatedly dampened in cafe-takeaway businesses.
Until next time
Gary
Want to learn more about business building?  Check out our business coaching and business planning services
Protect your business and your family's future 
https://garyweigh.com/wp-content/uploads/2017/12/GWeigh_2018-300x83.png
0
0
Gary Weigh
https://garyweigh.com/wp-content/uploads/2017/12/GWeigh_2018-300x83.png
Gary Weigh
2011-06-08 05:01:33
2020-01-21 13:49:38
Business building – Is a cafe-takeaway a dream or a nightmare?